Every day of the week in Mallorca small towns hold their weekly market. Showcasing fantastic local foods such as fruits, vegetables, cheeses, cured meats and bread.
Food in Mallorca is still very local with farmers from the surrounding area setting up stalls to sell their own produce.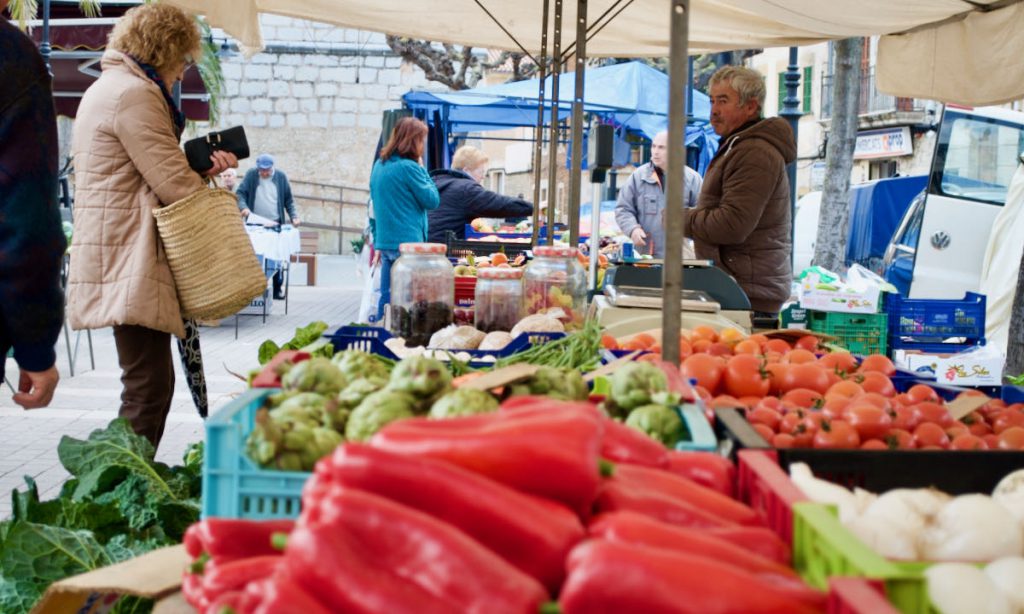 Mallorca market days 2021
Visit these markets and shop locally.
Day
Market
Monday
Manacor
Tuesday
Alcudia
Arta
Palma Organic Market
Wednesday
Puerto Pollença
Sineu
Thursday
Inca
Sant Llorenç GastroMarket
Friday
Binissalem
Saturday
Alaro
Sóller
Palma Organic Market
Sunday
Pollença
Alcudia
Santa Maria del Cami
Guided market tours
Let us show you around to find the most exciting and tasty produce available. We will introduce you to new flavours and ingredients. Learn what is in season, how to prepare it and how to cook it.
Unsurprisingly, we know the market in Pollensa the best but but we love visiting markets and finding their gems.
After the tour, we can go back and cook it!
Mallorca market maps
Find the weekly outdoor markets in Mallorca with our maps.
Pollensa market
Every Sunday
Santa Maria del Cami market
Every Sunday
Manacor market
Every Monday
Arta market
Every Tuesday
Alcudia market
Every Tuesday
Port Pollensa market
Every Wednesday
Sineu market
Every Wednesday
Inca market
Every Thursday
Sant Llorenç market
Every Thursday
Binissalem market
Every Friday
Alaro market
Every Saturday
Soller market
Every Saturday
Palma organic market
Every Tuesday & Saturday
Daily indoor markets in Palma de Mallorca
The best indoor markets are in Palma
Mercat de l'Olivar
Open every day except Sunday
Mercat de Santa Catalina
Open every day except Sunday